Winter Break in Malaga & Cadiz
7 days / 6 nights
A Week Escapade in Malaga & Cadiz
NEXT DEPARTURES 2022-2023:
Jan-9,2023
Feb-6,2023
Mar-6,2023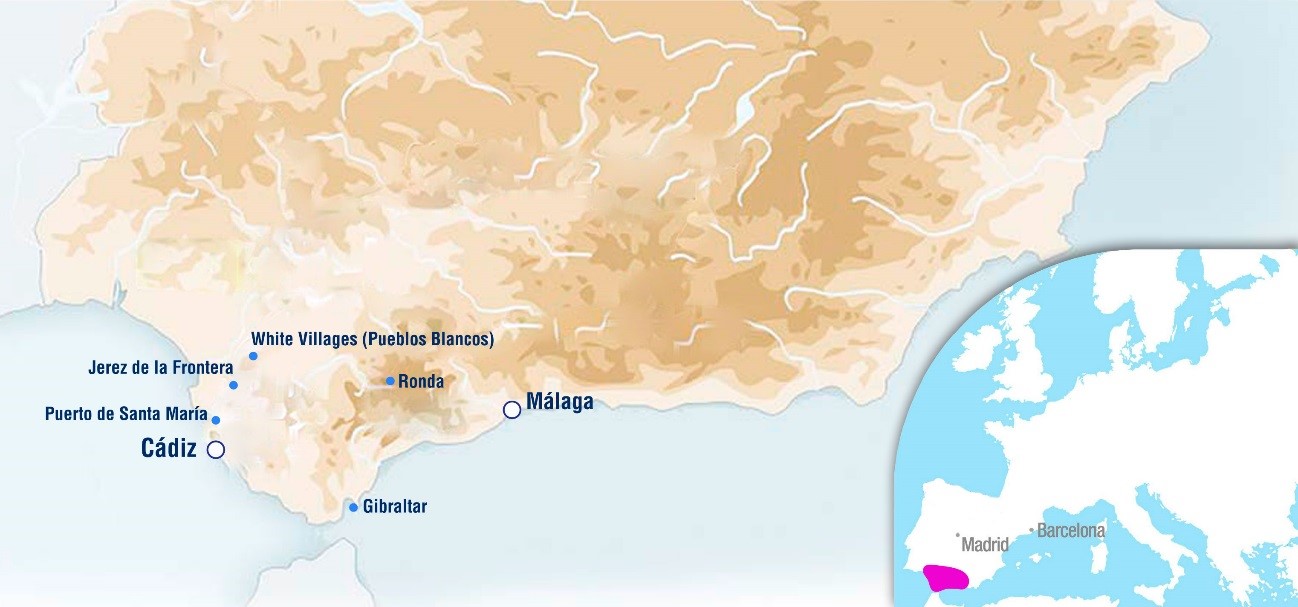 Join us to discover some of the small paradises that the famous Andalusian Costa del Sol hides. Apart from the villages with a rural air, today there are housing developments, yacht harbours, golf courses, canters of entertainment, night clubs and many other tourist attractions. Fortunately, all of them blend perfectly with the traditional, peaceful atmosphere enveloping towns and villages, miraculously and faithfully preserved in their original mould. However, holiday on the beach with all the attractions it may have in this part of the Mediterranean Sea is not the only thing the Costa del Sol has to offer: by making short trips the traveler has the opportunity of getting to know the most genuine aspects of Andalusian culture.
You will cross the Andalusian region from East to the West, passing through the Spanish Mediterranean Coast belonging to the Provinces of Malaga and Cadiz, that is protected from the northern winds by a mountain chain which sometimes reaches down to the edge of the sea. Some Highlights of the Tour will include excursions to Gibraltar, the symbolic point of departure for European navigators in the Age of Discovery, Jerez, a refined city cradle of the Flamenco music, Sherry wines and Horses and Ronda, one of the most interesting towns in Andalusia that lies on top of a rocky projection with vertical walls.
Let us guide you through some places we´re sure you know as well as others are less known by most people, in which you will enjoy relaxed days away from the rest of the world.
The program starts in Malaga and ends in Malaga
Málaga (2 nights)
Gibraltar, Cádiz (4 nights)
Puerto de Santa María, Jerez de la Frontera, White Villages (Pueblos Blancos), Ronda
Highlights
This program will be operated every year during the months of November, December, January, February and March.
An average of 20ºC / 68ºF is the average temperature you will find during your stay.
Malaga and the Costa del Sol facing the Mediterranean area and Cadiz cost facing the Atlantic had been unique destinations for Europeans searching for much better weather conditions than in northern Europe.
We invite you to discover this region, to enjoy lots of leisure time, great weather and blue skies in this southern corner of Europe.
We will suggest daily activities and visits that have been selected for its interest and fun but always understanding that you might prefer to relax as this is a slow pace trip.
Those activities will include museums such as the Picasso Museum of Malaga, visits to olive mills and factories,  discover the beauty of the White Villages such as Ronda or the Rock of Gibraltar or even step in Tangier, Morocco after a fascinating cross of the Strait on the fast ferry, wines of Jerez ( Sherry), the Andalusian Horses  Dance of the Royal Equestrian School in  Jerez, or exploring the oldest city in Europe, Cadiz, founded by the Phoenicians around 1100 B.C  are some of the activities e will suggest doing…
Pre nights in  Malaga / Costa del Sol:  For those wishing to arrive in Malaga a day or two early, OST has reserved a limited number of rooms upon request.
Post nights in  Malaga/ Costa del Sol:  For those wishing to add extra nights or tours at the end of the trip in  Malaga /Granada, we can make you the reservations upon request.
The cost per night will include a private transfer upon arrival in Málaga. Departure private transfer can be also confirmed upon request.
Tangier  Excursion by Ferry.
Contact Us
and for a more detailed program while checking the dates and get ready for your next trip joining one of our small and friendly groups on your next adventure!
€ 1150
(*) The prices are per person based on a shared room.
Includes:
6- night First-Class accommodation
OST  expert  Group Leader
Private motorcoach transportation throughout the entire  journey
Walking tours in the mentioned cities as noted in the  itinerary
Admissions fees as noted in the itinerary
Welcome and Farewell dinners. Other meals according to the program
Daily breakfast
All Taxes (VAT)
Not Included:
International flights
Travel Insurance or any passport or visa fees
Additional services at Hotels as laundry, Ironing services, etc.
Beverages and drinks other than coffee, tea and water
Meals not specified in the program.
At Ole Spain, we treat each group individually. Our experienced team has over twenty-five years of experience in creating successful tours of the Iberian Peninsula for small and large groups.
Ideal for small and large groups
Flexibility in scheduling and budget
We can book all your transportation and accommodations
A licensed tour escort will accompany your group throughout your stay
Important: You must book your own flights to and from Spain
Charter Bus Services for Groups
We can provide 20 to 60 seat deluxe charter buses to transport your group in style. We work only with experienced transportation companies that have excellent safety records. Our buses can take you around a single city or provide transportation for the entire tour.
(*) Booking Conditions:
Please use our Custom Travel Form to share your travel needs with us. The more detail you provide, the closer we can come to creating the perfect trip. Once we receive your initial travel information we will respond to you within two working days with a suggested itinerary, tours and accommodations, along with a quote for the total cost. We'll continue to work with you as needed until you agree that you have the perfect trip. In most cases, at that time, we will ask for a 25% deposit by credit card or wire transfer and will begin making all reservations.
Full payment is due 15 days before your arrival, either by credit card or wire transfer.
(*) Cancellation Policy:
If you cancel at least 15 days before your scheduled arrival, we will refund 40% of the deposit. If you cancel less than 15 days before your scheduled arrival we cannot refund the deposit. If you have already paid in full, we will provide a refund minus the deposit