The Portuguese Way to Santiago
6 days walking / 7 nights
From Tui to Santiago | 120 km / 74 miles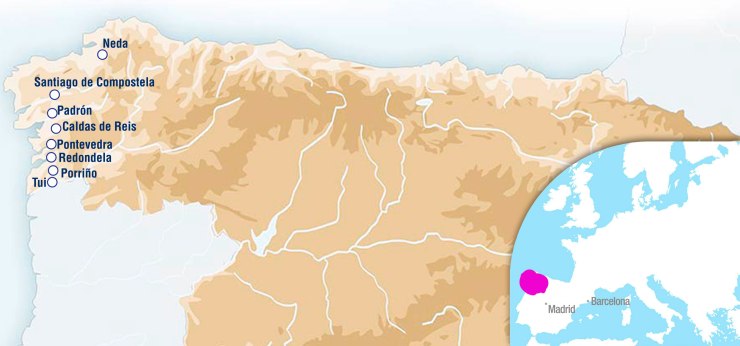 The Jacobean pilgrimage from Portugal intensifies after the independence of this country in the mid-twelfth century, though presumably already existed in the early Middle Ages. Since then the Jacobean cult and pilgrimage to Compostela considered one of the hallmarks of European culture, in Lusitanian lands, had a major projection. The motivations for that pilgrimage were religious. But thanks to this dense and secular flow of people who populated the roads of Santiago, fertile channels of cultural, economic and thought exchange were also established between Portugal and Galicia.
This route follows the Atlantic shore and the beautiful landscapes of Rias Baixas.
(*) You can depart any day you want. Flexibility is our modus operandi 
7 nights / 6 days walking
The program starts in Sarria and ends in Santiago de Compostela
Tui (1 night)
Porriño (1 night)
Redondela (1 night)
Pontevedra (1 night)
Caldas de Reis (1 night)
Padrón (1 night)
Santiago de Compostela (1 night)
Discount 3rd person in extra bed sharing room with 2 adults
Half board supplement per person/night
Picnic supplement: Sandwich, drink and dessert person/day
Transfer airport Santiago – Starting point max. 4 people
Transfer Santiago city center – Airport (max 1 to 3 people)
Transfer and bicycle/luggage storage.
€ 565
(*) The prices are per person based on a double/twin room. €250 Single Suppl. 
Includes:
7-night accommodation and daily breakfast in Double /Twin or single room.
One piece of luggage transfer from one accommodation to the next one on each of the stages of your pilgrimage (maximum 18 kgs. per luggage/Bag)
Accommodations will be in hotels, Rural Inns, Hostels and Pensions.
Guide walking tour in Santiago (Old Quarter) for two hours in Spanish
24 – hour phone assistance during your pilgrimage
Info dossier  & Pilgrimage Passport ( Compostela)
Travel Insurance
All Taxes (VAT) Included 
Not Included:
Supporting car / Transfer IN / Transfer OUT.
*Cancellation or Modification of the Reservation
The cancellation or modification of a reservation will entail the following management costs: € 18 per person NON-REFUNDABLE.
Cancellation fees according to current legislation (in addition to management fees)
11 and 15 days before departure 5% of the total amount of the trip.
3 and 10 days before departure 15% of the total amount of the trip.
48 hours before departure 25% of the total amount of the trip.
No presentation at departure 100% of the total amount of the trip.