15 days / 14 nights
A Journey Through the South of Spain & Morocco
Sept-2, 2022
Oct-7,2022
Nov-11,2022
Feb-9,2023
Mar-16,2023
Apr-6,2023
May-4, 2023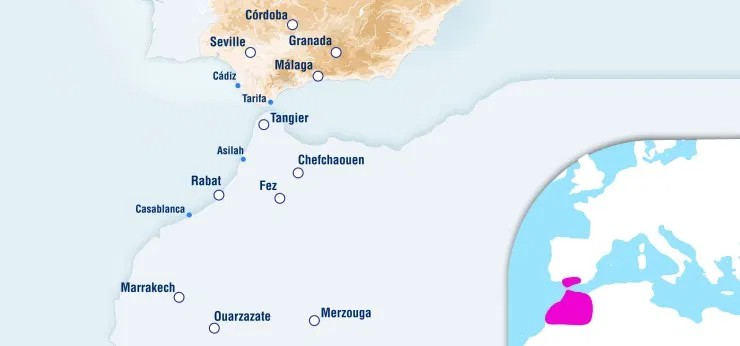 With their invasion in 711 A.D., almost the entire Iberian Peninsula fell under Moorish control. During the subsequent centuries, the Christians slowly began to win back the most territory. This route offers the possibility to enter the heart of Arabic Spain visiting to its principal cities with their colourful districts such as Cordoba, famous for its Mezquita, Seville, with its Giralda or golden tower and Granada, the ultimate stronghold of the Moors on the peninsula and famous for its Palace of Alhambra.
After leaving Andalusia, we step into African soil in Morocco, one of the most exotic and oriental of Europe´s neighbours.
The northern region, from Tangier to Casablanca, offers an Atlantic countryside with fishing villages, an immense forest of eucalyptus and cedars until arrival in Rabat, capital of the country official residence of Kind Mohamed VI. Then from Marrakech, origin to the country´s name and the tourist capital of Morocco to Fez, the old Northern capital, you will cross entire cities of red adobe, surrounded by thousands of palm trees and traditionally robed inhabitants.
All this combined its unique gastronomy, shopping, famous bargain in the bazaars, "magic carpets", mint tea, Moroccan hospitality, and the comfort of its hotels and tourist services will make this trip one long to remember.
The program starts/finish in Málaga
Málaga - Granada (2 nights)
Córdoba (1 night)
Seville (1 night)
Cádiz, Tarifa, Tangier (1 night)
Asilah, Rabat (1 night)
Casablanca, Marrakech (2 nights)
Ouarzazate (1 night)
Merzouga (1 night)
Fez (2 nights)
Chefchaouen (1 night)
Tangier, Málaga (1 night)
Highlights:
Enjoy the beauty of the Alhambra palace and its gardens in Granada, discover the Albayzin Quarter and the gipsy caves where you will learn about the traditional flamenco.
Discover the ancient Al Andalus and its history, a fascinating period of 700 hundred years ending when Columbus arrived in America. You will be able to enjoy as in any other place on earth, different architecture period from Islamic art to the horseshoe arches at the Mosque in Cordoba, today its Cathedral; to the Berber style architecture from the XI century of the Giralda of Sevilla Cathedral ( XII century); to the palaces of the Alhambra (XIII-XIV centuries).
Crossing the Gibraltar Strait by ferry, and once considered the end of the world, where the Hercules columns stood, is a memorable experience you will never forget. The 14 kilometers distance between Europe and Africa and in a half an hour ferry ride will bring you to another world creating memories you won't forget.
Exploring Morocco by motorcoach and driving across high plateaus, its medieval cities, giant oak natural reserves and across the Atlas mountains; seeing its first oasis and sleeping in the Sahara desert inside a haima, enjoying some mint teas and the local Moroccan gastronomy, walks through the kasbah of Fes, consider the largest medina in the Arab world today, walk through its souks and spices markets … these are some of the unique experiences we will share with you.
This is a slow pace journey, our goal is that traveler will have free time to enjoy the best-selected spots.
Learn about the flamenco music, traditions and influences from the cradle of Jerez to the caves of the Albayzin in Granada.
Previous nights in Malaga: For those wishing to arrive in Malaga a day or two early, OST has reserved a limited number of rooms upon request.
Post nights in Malaga: For those wishing to add extra nights or tours at the end of the trip in Malaga, we can make you the reservations upon request.
The cost per night will include a private transfer upon arrival in Malaga. Departure private transfer can be also confirmed upon request.
Contact Us
and for a more detailed program while checking the dates and get ready for your next trip joining one of our small and friendly groups on your next adventure!
€ 2130
(*) The prices are per person based on a shared room.
Includes:
14-night First-Class accommodation
OST  expert  Group Leader
Private motorcoach transportation throughout the entire  journey
Sightseeing tours in the mentioned cities as noted in the  itinerary
Admissions fees as noted in the itinerary
Expert local guides for private visits
Flamenco performance live experiences in Seville
Ferry tickets to Tangier (Morocco)
Welcome and Farewell dinners. Other meals according to the program
Daily Buffet breakfast
All Taxes (VAT)
Not Included:
International flights
Travel Insurance or any passport or visa fees
Additional services at Hotels as laundry, Ironing services, etc.
Beverages and drinks other than coffee, tea and water
Meals not specified in the program.
At Ole Spain, we treat each group individually. Our experienced team has over twenty-five years of experience in creating successful tours of the Iberian Peninsula for small and large groups.
Ideal for small and large groups
Flexibility in scheduling and budget
We can book all your transportation and accommodations
A licensed tour escort will accompany your group throughout your stay
Important: You must book your own flights to and from Spain
Charter Bus Services for Groups
We can provide 20 to 60 seat deluxe charter buses to transport your group in style. We work only with experienced transportation companies that have excellent safety records. Our buses can take you around a single city or provide transportation for the entire tour.
(*) Booking Conditions:
Please use our Custom Travel Form to share your travel needs with us. The more detail you provide, the closer we can come to creating the perfect trip. Once we receive your initial travel information we will respond to you within two working days with a suggested itinerary, tours and accommodations, along with a quote for the total cost. We'll continue to work with you as needed until you agree that you have the perfect trip. In most cases, at that time, we will ask for a 25% deposit by credit card or wire transfer and will begin making all reservations.
Full payment is due 15 days before your arrival, either by credit card or wire transfer.
(*) Cancellation Policy:
If you cancel at least 15 days before your scheduled arrival, we will refund 40% of the deposit. If you cancel less than 15 days before your scheduled arrival we cannot refund the deposit. If you have already paid in full, we will provide a refund minus the deposit