Hiking El Camino de Santiago
13 days / 12 nights
From Madrid to Santiago de Compostela
NEXT DEPARTURES 2022-2023:

 
June-1,2023
Oct-13, 2023
Nov-2,2023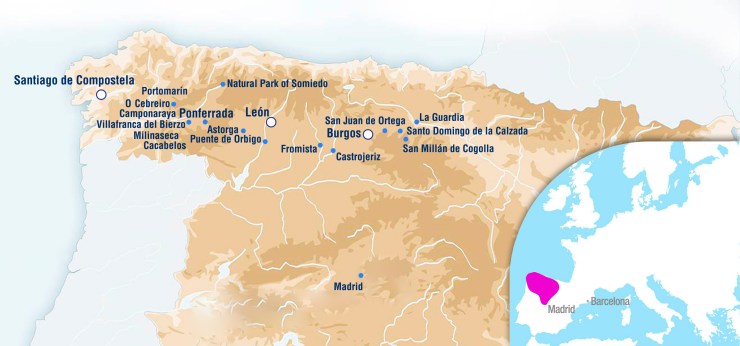 We understand that not everybody has enough time to walk all the Camino to Santiago. Just from the Pyrenees to Santiago it will be almost a month. We have selected daily walks through some of the most beautiful pathways of this ancient pilgrimage route where you will learn about the ancient pilgrims at the same time as about the art of its monasteries while you listen to some of the Gregorian chants by today´s monks and learn about its wineries in Rioja before ending in Santiago de Compostela, where a Cathedral built the city…
An educational journey across history and another fascinating route, the ancient pilgrimage roads to Santiago de Compostela. Join us for 12 nights and walk some of the paths, while also learning about its art and history, discovering the legends about the ancient pilgrimage in Europe, and meeting today´s pilgrims on the road back again. A route that started way before the discovery of the relics of St James, where  Europeans first arrived following the sunset and the stars.
You'll hear Gregorian chants and see the Ribera del Duero Wines, Burgos Cathedral, and the Human Evolution Museum. You'll also have a full-day escape to visit Bilbao and the Basque Country or the Rioja Wine region; both are on our list to share with you. Leon and  Asturias, valleys, fisherman villages, medieval towns, such as Leon or Santiago de Compostela, and Salamanca, Avila Escorial or  Segovia…
A perfect combination of learning about our culture, and delighting in the food and wines that we want to share with you.  Participants may choose a specific departure time unless they make a request for us to tailor it to you and your group.
Our groups are small in size, about 15 to 20 participants of world travelling, lucky people that have  13+ days to explore, learn and have fun.
We provide limited departures per season, but we can also tailor one for you, your group of friends, or your community anytime.
Madrid - Burgos - Bilbao - Leon - Santiago de Compostela - Salamanca - Avila - Segovia - Madrid
Madrid, Burgos (3 nights)
San Millan de Cogolla, Santo Domingo de la Calzada, Laguardia, San Juan de Ortega, Castrojeriz, Fromista, Leon (3 nights)
Natural Park of Somiedo, Puente de Orbigo, Astorga, Milinaseca, Ponferrada (2 nights)
Villafranca del Bierzo, Cacabelos, Camponaraya, O´Cebreiro, Triacastela, Sarriá (1 night)
Lugo, Lavandeira, Portomarin, Santiago de Compostela (3 nights)
Highlights:
We titled this program as Hiking the Camino,  as everyday participants will hike some of the ancient pilgrim's paths we selected or will enjoy some walking tours in medieval cities.
The hiking paths we will suggest are not as long as regular pilgrims are doing daily as they are shorter in distance but are selected for the beauty of its legends around. The average of daily hiking distances along the Camino is about 5 -7 kilometers rather than the 15-25 kilometers regular pilgrim walk daily.
The selected accommodation is based on first-class and charming historic hotels along the Camino. We will normally spend more than one night in each hotel and we do the daily activities starting and ending in the same hotels we stay in.
This is a program that is focused on learning about this historic route, the French Way, that was considered among the oldest pilgrimage routes in the dark ages and medieval times and it is focused on learning activities and seminars about this period of history and art.
We will, of course, meet pilgrims along our way as we will follow the same route and we will find spaces and moments of interaction between us and them where we will learn also about what makes the  Camino a pilgrimage destination today.
This opportunity will make us learn bout the differences between medieval and today pilgrim's experiences.
We invite you to discover and click over the itinerary and learn more about the Natural reserves and its descriptions.
This is a slow pace journey, our goal is that traveller will have free time to enjoy the best-selected spots. As this is a special hiking program that has its own specifics, we will be very glad to send you more detailed information once we will hear about your interest: hiking levels, etc… But do not be afraid, as this itinerary had been planned for everyone who has a good attitude and loves to walk. Nothing is impossible!
Previous nights in Madrid: For those wishing to arrive in Madrid a day or two early, OST has reserved a limited number of rooms upon request.
Post nights in Madrid: For those wishing to add extra nights or tours at the end of the trip in Madrid, we can make you the reservations upon request.
The cost per night will include a private transfer upon arrival in Madrid.
Departure private transfer can be also confirmed upon request.
Contact Us
and for a more detailed program while checking the dates and get ready for your next trip joining one of our small and friendly groups on your next adventure!
€ 2.350
(*) The prices are per person based on a double/twin room.
Includes:
12-night First-Class accommodation
OST  expert  Group Leader
Private motorcoach transportation throughout the entire  journey
Sightseeing tours in the mentioned cities as noted in the  itinerary
Admissions fees as noted in the itinerary
Expert local guides for private visits
Welcome and Farewell dinners. Other meals according to the program
Daily Buffet breakfast
All Taxes (VAT)
Not Included:
International flights
Travel Insurance or any passport or visa fees
Additional services at Hotels as laundry, Ironing services, etc.
Beverages and drinks other than coffee, tea and water
Meals not specified in the program.
At Ole Spain, we treat each group individually. Our experienced team has over twenty-five years of experience in creating successful tours of the Iberian Peninsula for small and large groups.
Ideal for small and large groups
Flexibility in scheduling and budget
We can book all your transportation and accommodations
A licensed tour escort will accompany your group throughout your stay
Important: You must book your own flights to and from Spain
Charter Bus Services for Groups
We can provide 20 to 60 seat deluxe charter buses to transport your group in style. We work only with experienced transportation companies that have excellent safety records. Our buses can take you around a single city or provide transportation for the entire tour.
(*) Booking Conditions:
Please use our Custom Travel Form to share your travel needs with us. The more detail you provide, the closer we can come to creating the perfect trip. Once we receive your initial travel information we will respond to you within two working days with a suggested itinerary, tours and accommodations, along with a quote for the total cost. We'll continue to work with you as needed until you agree that you have the perfect trip. In most cases, at that time, we will ask for a 25% deposit by credit card or wire transfer and will begin making all reservations.
Full payment is due 15 days before your arrival, either by credit card or wire transfer.
(*) Cancellation Policy:
If you cancel at least 15 days before your scheduled arrival, we will refund 40% of the deposit. If you cancel less than 15 days before your scheduled arrival we cannot refund the deposit. If you have already paid in full, we will provide a refund minus the deposit