6 days / 5 nights
Starts: Madrid | Ends: Madrid/Malaga
Travel When you Want With Us!
Selected Travel Plans in Spain by Train for You!
The essence of Andalusia connecting Madrid, Córdoba, Granada, Seville and Málaga by train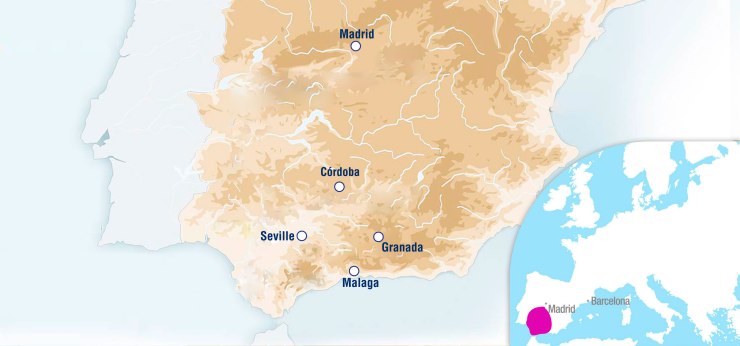 Without leaving Eastern Europe, you will come to know cities that seem to have been taken out of the Tales of a Thousand and One Nights. In Cordoba, you will visit one of the largest and most ancient mosques, a true forest of exquisite columns and one of the highpoints of the architecture of the Moorish period of Spain. Then in Seville, the capital of Andalusia, you will be able to stroll narrow streets, clearly inherited from the Moorish period, and climb one of the loveliest minarets in existence. And in Granada, you will walk through the sumptuous rooms of one of the most celebrated and best-conserved medieval Islamic palaces, the famous Alhambra. All this without leaving Spain, and only a few hours by train from Madrid, Spain´s active and modern capital.
This Tour Package can be extended with the inclusion of other interesting cities and towns such as Jaen, Cadiz, Ronda and Jerez de la Frontera. Maybe not as known as the main Andalusian cities mentioned previously, but as interesting as them.
NOTE: This is a custom train & hotel package. As experts, we will always recommend the minimum amount of nights you should stay in each city, once we communicate with you about your interests.
We will provide you with our section of accommodations on each city combined with the train tickets, private guided walking tours and other services upon request. You can start the day you choose, and you can extend your stay as much as you want.
SUGGESTED ITINERARY
Madrid – Córdoba – Granada – Seville – Málaga/Madrid
Day 1, Madrid / Cordoba / Seville   
Your journey will start when our driver will pick you up at your Hotel to transfer you to the Madrid train station to take the morning train to Cordoba, the ancient Muslim capital of Spain during the Middle Ages. Upon arrival you will enjoy a private walking tour to stroll over the old quarter and visit the Mosque, today the former Cathedral of Cordoba and one of the nicest jewels, where we will learn about the caliphate of Cordoba, its architecture style and what happened in Cordoba in the year 1000. After the visit and some leisure time, you should return to the train station to take a train to Seville, the city where you will stay the next two nights.
Day 2, Seville
After breakfast, you will meet our local guide at the lobby of your Hotel to enjoy a private walking tour of the most evocative sites of Seville over the ancient squares of the antique Jewish section of Santa Cruz. You will enter (visit included) in the sumptuous royal palace, the Royal Alcazares, the oldest in Europe, and the Cathedral, the third largest Christian cathedral and site of Christopher Columbus´ tomb. After the guided tour, you will have the rest of the day at our leisure to enjoy the city. Overnight stay.
Day 3, Seville / Granada      
After breakfast, you must go to the train station to take a train to Granada, the second city most important of Andalucía. After checking in at the selected Hotel, you will have free time to enjoy the city walking in the famous Albayzín neighborhood, the Sacromonte and visiting the Cathedral, the Royal Chapel and the Plaza Nueva. Overnight stay in Granada.
Day 4, Granada
Breakfast. Then, attend to the entrance of the Alhambra to meet our local guide with who you will enjoy a guided visit of the Palaces and its gardens, one of the main wonders of the world; an Arab military structure that was transformed in a city that 25.000 people lived with beautiful palaces and gardens during the 13,14 and 15th centuries. This romantic palace, a compendium of various constructions of distinct periods and styles, has captivated the imagination of all those who have visited it during its 600 years of existence This ¨ red ¨ palace was built by the Nasrid dynasty. Free afternoon. Overnight stay in Granada.
Day 5, Granada / Madrid  
Breakfast. This morning takes the train to return to Madrid. After arriving and check in at the selected Hotel, you will have the rest of day at your leisure. Overnight stay.
Day 6, Madrid
Breakfast. Then, our driver will pick you up to transfer you to the Madrid Airport to embark and take your flight back home. End of the services.
Highlights
These Spain by Train programs are designed for couples, families and small groups of friends mostly.
These programs are custom packages that includes selected charming hotels in the city centers, arrival and departure private transfers, high speed train tickets between the cities, local expert guides for private guided walking tours and taxes.
We do not offer just train tickets, just private tours or just one-night accommodations, as those are packages with a minimum service we will consider. Feel free to contact if you have any questions.
As experts we will always recommend you the minimum of nights you should stay on each city, once we hear from you and your interests
You can start the day you want, and you can extend your stay as much as you want. It is important that the days we suggest you stay in each city are a good average for first time visitors, but you can always extend your stay as you want.
You will have the feeling of freedom during your stay, but you will have our team behind 24 hours.
Our expert local guides will inform you specifically about what to do on each city and where to go for your leisure time. Feel comfortable an ask them any questions you might consider. They are the perfect insiders and will love to help you to find what you are looking for.
We do hope to hear from you and your interest so we can start planning your custom package from the very beginning.
Optional hotels extensions or private guide and chauffeur services as a well as extending your stay with us connecting with other cities, renting a car to follow a suggested self-drive program or relaxing by the Mediterranean with excursions to natural areas before ending your trip is something that we will love to offer you at any time.
Let us know if you are interested to connect with other destinations or any travel assistance you may need.
Contact Us and for a more detailed program while checking the dates and get ready for your next trip joining one of our small and friendly groups on your next adventure!
€ 1100
(*) The prices are per person based on a double/twin room.
Madrid, Cordoba, Seville (2 Nights),
Granada (2 Nights),
Madrid (1 Night)
(*) Optional Extra nights in Malaga (2 Nights).
(*) As experts we recommend a minimum of 5 nights.
Includes:
5 Nights accommodation in centrally located charming hotels according to the program/ your interest
Expert local guides for the walking tours in each city
Admissions fees
Daily buffet breakfast
High Speed AVE Train tickets between the cities
All taxes
Not Included:
International flights
Travel Insurance or any passport or visa fees
Additional services at Hotels as laundry, Ironing services, etc.
Important notes:
This train packages includes a minimum of six nights from where you can start adding or not extra nights or services. All have in common the train tickets, a careful selection of charming Hotels in the historical centers and private guided tours in hands of our insider experts. You can depart any day you want. All the admissions to the main museums and monuments are included as well.
(*) Booking Conditions:
Please use our Custom Travel Form to share your travel needs with us. The more detail you provide, the closer we can come to creating the perfect trip. Once we receive your initial travel information we will respond to you within two working days with a suggested itinerary, tours and accommodations, along with a quote for the total cost. We'll continue to work with you as needed until you agree that you have the perfect trip. In most cases, at that time, we will ask for a 25% deposit by credit card or wire transfer and will begin making all reservations.
Full payment is due 15 days before your arrival, either by credit card or wire transfer.
(*) Cancellation Policy:
If you cancel at least 15 days before your scheduled arrival, we will refund 40% of the deposit. If you cancel less than 15 days before your scheduled arrival we cannot refund the deposit. If you have already paid in full, we will provide a refund minus the deposit.