A Gourmet Tour of Spain & Morocco
DEPARTURE DATES 2022-2023:

 
Feb-1,2023
Mar-22,2023
May-3,2023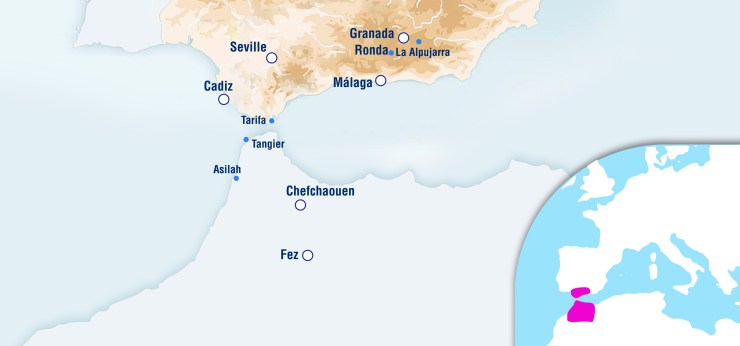 Three thousand years ago, the Gibraltar Strait was the end of the known world and after crossing it became darkness and mysteries. Just fourteen km separates Europe from Africa. A very short distance but in many ways a very long one too. However, the people who live on both sides of the Strait have many common years of history and traditions.
With regard to the cuisine, one factor to be singled out is the great influence of the Arab culture on Andalusian food: the use of rice, lemon, and plenty of vegetables which give many of dishes a distinctive flavour. Also typical in this region is the braised meat, sauces flavoured with cumin and saffron, and almond paste.
We cannot forget to mention the olive oil, one of the secret condiments for both Andalusian and Spanish cuisine, which is produced mainly in this region. The familiar «tapas» is an original Andalusian invention and you will find plenty of them in bars throughout the region.
As to the wine which must accompany these delicious dishes, let us mention the varieties of Sherry wines:  » Jerez«, «Fino«, «Oloroso» located and produced exclusively in the in all the area.
The spices and characteristics in common and also its differences today through its history and cooking is what we are proposing on this trip. In the hands of expert chefs but also in the hands of local women and men who will teach us some secrets of how to prepare the best cus-cus or the famous Paella.
Please contact us for more detailed information and Reservations anytime.
We would love to share these moments with you on your next departure.
The program starts in Malaga and ends in Malaga
Málaga, Granada (3 nights)
La Alpujarra, Ronda (1 night)
Seville (2 nights)
Tarifa, Tangier (1 night)
Asilah, Fez (2 nights)
Chefchaouen (1 night)
Tangier, Tarifa, Cádiz (2 nights)
Málaga (1 night)
Malaga - Madrid
Pre nights in  Malaga:  For those wishing to arrive in Lisbon a day or two early, OST has reserved a limited number of rooms upon request.
Post nights in Madrid:  For those wishing to add extra nights or tours at the end of the trip in Madrid, we can make you the reservations upon request.
The cost per night will include a private transfer upon arrival in Lisbon. Departure private transfer can be also confirmed upon request.
Contact Us and for a more detailed program while checking the dates and get ready for your next trip joining one of our small and friendly groups on your next adventure!
€ 2690

(*) The prices are per person based on a shared room. All Taxes (VAT) Included 

Includes :

Deluxe Bus for all Transfers
English speaking Group Leader for the entire Itinerary
Expert English-speaking Guides
Private Visits in Lisbon, Seville & Malaga
Private Excursion to Sintra, Cascais & Estoril
Private Excursion to Doñana Park
Private Visit to a wine cellar in Jerez
Private Visit to Gibraltar
Private Visit to the Alhambra Palace & Generalife Gardens
Daily Breakfast
14 nights accommodation in 4 stars Hotels.

At Ole Spain, we treat each group individually. Our experienced team has over twenty-five years of experience in creating successful tours of the Iberian Peninsula for small and large groups.

Ideal for small and large groups
Flexibility in scheduling and budget
We can book all your transportation and accommodations
A licensed tour escort will accompany your group throughout your stay

Important: You must book your own flights to and from Spain Charter Bus Services for Groups

We can provide 20 to 60 seat deluxe charter buses to transport your group in style. We work only with experienced transportation companies that have excellent safety records. Our buses can take you around a single city or provide transportation for the entire tour.

(*) Booking Conditions:

Please use our Custom Travel Form to share your travel needs with us. The more detail you provide, the closer we can come to creating the perfect trip. Once we receive your initial travel information we will respond to you within two working days with a suggested itinerary, tours and accommodations, along with a quote for the total cost. We'll continue to work with you as needed until you agree that you have the perfect trip. In most cases, at that time, we will ask for a 25% deposit by credit card or wire transfer and will begin making all reservations.

Full payment is due 15 days before your arrival, either by credit card or wire transfer.

(*) Cancellation Policy:

If you cancel at least 15 days before your scheduled arrival, we will refund 40% of the deposit. If you cancel less than 15 days before your scheduled arrival we cannot refund the deposit. If you have already paid in full, we will provide a refund minus the deposit